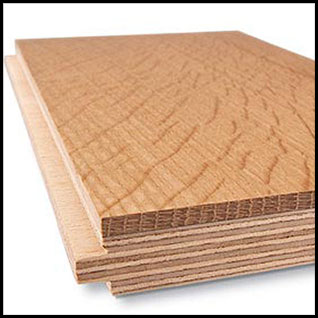 Engineered Timber flooring is a veneer of natural hardwood bonded to a highly stable premium ply substrate layer. The result is a beautiful hardwood floor with a hard wearing coating and a super stable core.
The result looks and feels like a solid hardwood, but is designed to minimise the inherent problems of solid hardwood, namely the expansion and contraction that causes bowing and cupping. It also tends to be easier to install and less expensive than solid hard wood.
The top layer of an engineered board (the lamella) may be 2,3 or 4mm thick and the thicker the surface layer the more times it can be sanded and refinished to remove the ravages of wear.
Our range have been pre-stained and finished, with a range of ten options to choose from. However if you prefer to finish your boards yourself, please ask about our raw timber options.
The following is a small example of our Engineered Timber flooring. Contact us now to see our full range.