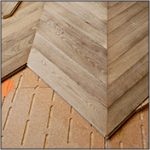 Parquet (from the French "a small compartment") is geometric pieces of wood used for a decorative pattern in flooring. This technique dates back centuries and requires a high skill level to execute. The team at Mobile Flooring Melbourne specialise in this technique and guarantee our craft.
Both our Herringbone and Chevron Parquetry come in either unfinished Solid or pre-finished Engineered timber options. 
Herringbone is a pattern made up of equal-size, rectangular pieces, arranged in a staggered zig-zag pattern. The distinct characteristic of herringbone is that one rectangle is cut precisely so that the end of one plank meets to the side of the other. This technique creates a beautiful, "broken" zig-zag design that makes for ultra-elegant flooring for the home.
Chevron is an inverted V pattern, with each side meeting at the point without interruption. Each plank is machined to be laid at an angle of 60 degrees, creating a so-called "sergeant stripe". The effect is a floor that looks a bit more quiet or tight than a herringbone pattern.   
600x120x15/4mm ENGINEERED HERRINGBONE
888X148X14/3mm ENGINEERED HERRINGBONE